For anyone who loves great food, you just can't go wrong in Chicago. Every year, our 1foodsource team spends a few days at the National Restaurant show which gives us the opportunity to check out some of the best restaurants in the city. This year was no exception. Each restaurant we tried stood out and for very different reasons. All were spectacular. So I thought I'd give a quick review of each one, so that when you're in Chicago, you might plan on trying them for yourself.
Duck Duck Goat
I've been trying to get a reservation here since Stephanie Izard opened nearly two years ago. Her flagship restaurant Girl and the Goat has become a West Loop institution and a personal favorite so when I heard about her new concept, "reasonably authentic Chinese" couldn't wait to try it. Rick and I got lucky this year and snagged a reservation for 9:30 the first night we were in town. The place was packed, with a great energy and everyone making recommendations for what we should try. We tried several dishes, and each one was better than the next and although the names were recognizable, the flavors were unlike any other traditional Chinese dishes we'd ever had. We must say, this was arguably our favorite meal in Chicago this year.
Naha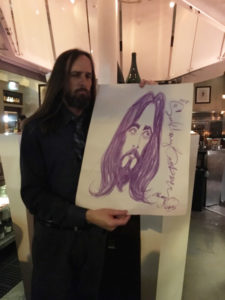 There's nothing we look forward to more than a dinner at Naha. We discovered this place nearly 8 years ago when we couldn't find a reservation anywhere for an important client dinner. Our dear friend Michael, "Champagne Jesus", the bartender and champagne aficionado at Pops for Champagne, was able to get us a reservation. It was an experience that we now repeat every year. The food is extraordinary. Carrie Nahabedian, who has garnered a James Beard Award and seven consecutive Michelin stars for her eclectic mix of American and Mediterranean fare, uses fresh seasonal produce, meats and cheeses from local farmers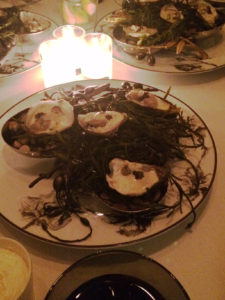 and growers to create deliciously different preparations. One standout is the oysters. Every time we order them, the table becomes silent while everyone enjoys the extraordinary combination of smoked trout roe, shallot, tarragon topped with a cloud of mignonette sorbet. We always order more. Everything on the menu is carefully created to take full advantage of the special ingredients and incredibly memorable. Give Naha a try. We're sure it will become a favorite for you too!
Girl and the Goat
When you want a fun, and completely eclectic and unusual menu experience head to Girl and the Goat. It is also on our list for every visit to Chicago. A meal there is a bold journey around the world. Choices range from goat to octopus, oysters to a roasted pig face. And this trip we tried it all. We were lucky enough to be there with a group of 7 so we were able to order just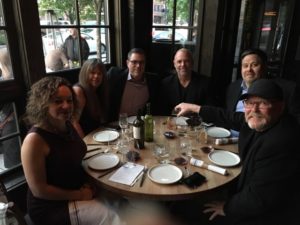 about everything on the menu. Plates are meant to be shared and as we worked our way through the menu, and were getting very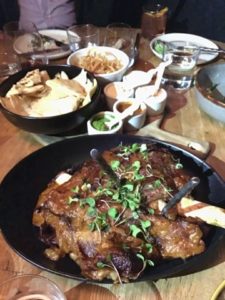 satisfied, along came a roasted goat shoulder. We had almost forgotten we had ordered it and since it was prepared when ordered, it took a bit of time – slow roasted for over 10 hours. It was spectacular! Not ever having tried goat before, I was not sure how I would like the flavor, but it was deliciously seasoned and so tender. It tasted a bit like veal, mild and tender. A few other standouts were the grilled shishito peppers, seared diver scallops that melted in your mouth, tempura soft shell crab, Hamachi crudo – everything was awesome. So good in fact, that we've already made our reservation for next year.
It was all topped off by a fortuitous flagging down of a vacant stretch limo whose driver agreed to whisk us off to Pop's for a nightcap for just a small fee and the contents of our Girl and the Goat doggie bag. We all piled in but she got the better part of the deal as the doggie bag contained a healthy portion of the roasted goat shoulder. No doubt we created a memory for her just as she did for us.
Joe's Seafood, Steak and Stone Crab
For our last night, we went to the restaurant that most servers and bartenders in Chicago say is the best restaurant in town. It's great because you can take seafood lovers and steak fanatics to the same restaurant, and get spectacular choices for both. My Dover sole was filleted tableside, a huge portion and absolutely delicious. Best I've ever had. The steaks and prime rib are amazing, of course it's Chicago, and they don't disappoint. And best of all is the stone crab. Sweet, tender and for a crab lover, it's a must have. It was a wonderful finish to a fantastic trip. Can't wait till next year!